Park Hyatt Melbourne Weddings
Parliament Place

,

Melbourne

,

Victoria

,

3002

,

Australia

Impeccable catering, an elegant ballroom & a private garden are all on offer at Park Hyatt's five-star hotel weddings in the heart of central Melbourne with proximity to St. Patrick's Cathedral & Fitzroy Gardens.
Range of elegant function spaces, suitable for both intimate events and grand occasions
Exquisite, 5-star catering with exceptional service standards
Centrally-located, with plenty of public transport links nearby, within the Free Tram Zone and on-site parking
The hotel's 245 5-star hotel rooms and suites are the largest in Melbourne CBD
On-site bar and restaurant for after-event drinks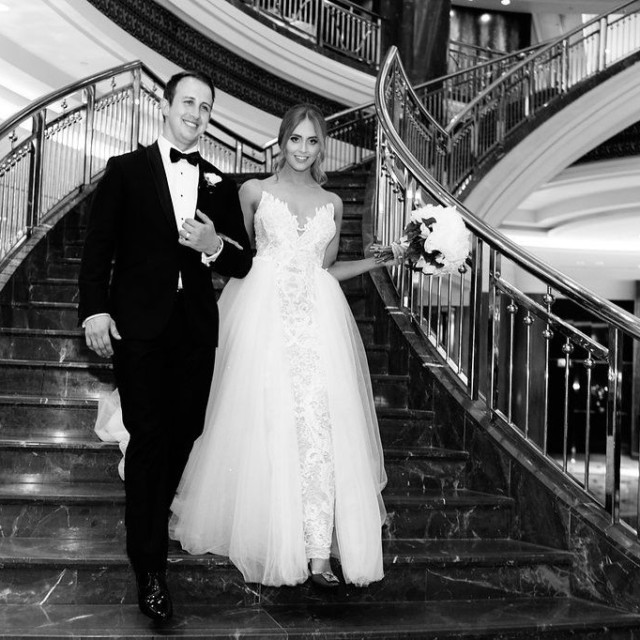 Weddings at
Park Hyatt Melbourne
If you're on the hunt for an elegant, formal wedding venue in central Melbourne, your search has come to a happy conclusion. 
Park Hyatt Melbourne really is the complete package: sweeping staircase and sophisticated ballroom? Tick. Easy access to Melbourne's famous St Patrick's Cathedral and Fitzroy Gardens? Yes, that too. 5-star catering team serving bespoke menu items? Also an option! 
With premium service, multiple reception venues to choose from, and an on-site event team, you'll be hard-pressed to find something this wedding venue doesn't deliver.
The Scene at Park Hyatt Melbourne
Park Hyatt Melbourne is situated in the inner east of Melbourne, just off Parliament Place, in a central, urban area. While close to the CBD, and boasting incredible views of the nearby cityscape, the venue receives lots of light, and is nestled in between the historic St Patrick's Cathedral and the enchanting Fitzroy Gardens, offering couples a number of nearby ceremony options and places to take wedding photographs.
Fitzroy Gardens are certainly a scenic highlight of the area, and there are a number of specialty gourmet coffee shops, cafes, restaurants, and bars in the immediate area, each competing to hold the prestigious title of 'Best Coffee in Melbourne'. In terms of activities, there is plenty for your out-of-town guests to do in the area, with Park Hyatt Melbourne close to a number of popular attractions, including the MCG, Federation Square, the Treasury Gardens, and Rod Laver Arena. 
As you can imagine, the atmosphere at Park Hyatt Melbourne matches the prestigious and historic neighbourhood it sits in. The hotel experience is luxurious and the decor sophisticated — the epitome of an elegant reception venue. 
Decorated with warm wood, a grand staircase, Italian marble floors, and exquisite finishings, this impeccable venue is ideal for polished, formal wedding receptions. 
Once the party winds down, your guests may choose to stay at this stylish, 5-star hotel, for which they will receive a discounted rate with a group booking, of course. The bright, spacious hotel rooms are the largest in Melbourne, and each contains a plush king bed — perfect for relaxing after a night of dancing and socialising.
As is expected with inner-city locations, this is a busy area. However, Park Hyatt Melbourne has parking directly underneath its premises, is within Melbourne's free tram zone, and is easily accessible by public transport. Your guests needn't worry about arriving and leaving this charming hotel's convenient location.
Park Hyatt Melbourne Wedding Ceremonies
Park Hyatt Melbourne offers two beautiful on-site ceremony options for you to choose from:
A charming

outdoor garden

inspired by Tuscany, is available for those holding their wedding reception in Trilogy. This garden is manicured, private and spacious, and can accommodate up to 100 guests cocktail-style. It's perfect for secluded, outdoor ceremonies. 

If you're concerned about wet weather, Park Hyatt Melbourne also offers an indoor ceremony location: in their

grand Fairmont Room

. This sophisticated space is elegantly embellished with silk upholstered walls, mahogany partitions and high ceilings. It's a very sleek option for couples not wanting to risk the famously unpredictable Melbourne weather.
Park Hyatt Melbourne sits just between beautiful Fitzroy Gardens, Treasury Gardens and the famous St Patrick's Cathedral, each offering stunning settings for wedding ceremonies nearby.
St Patrick's Cathedral.

Melbourne's most iconic church is just across the road from Park Hyatt, offering a splendid option for a religious ceremony.

Fitzroy Gardens.

In the neighbouring heritage-listed Fitzroy Gardens are 19 idyllic Melbourne wedding ceremony options, including the magical Fitzroy Gardens Conservatory (under renovation until late 2020). 

Treasury Gardens.

In the Treasury Gardens, our pick of the many options is on Lawn 5, better known as the JFK Memorial. This serene spot boasts Crepe Myrtle trees, a modest lake and a stone feature. 

Carlton Gardens.

Both the North and South sections include an abundance of picturesque ceremony spots to choose from. The options range from open, green spaces to quiet ponds.

Insider tip: Keep in mind, permits are required to have your ceremony in any of the public parks.
Park Hyatt Melbourne Wedding Receptions
Wedding receptions at Park Hyatt Melbourne are three things: seamless, sophisticated, luxurious. Whether you'd imagined an extravagant reception or fun celebration for your close friends and family, this flexible, versatile venue has an option – and each comes with delectable catering and planning assistance from the event team.
If an elegant wedding reception in a grand ballroom is what you'd always dreamed of, you might choose Park Hyatt Melbourne's exquisite, circular ballroom. This space is formal, and contains a unique, sunken parquetry floor and a silver-leafed dome ceiling above. Receptions here can be large, with the room allowing for up to 600 guests cocktail style – you'll be able to invite all your nearest and dearest to help you toast your new marriage. 
Alternatively, you might like to host your wedding reception in the Fairmont Room; this sophisticated space is adorned with silk upholstered walls and mahogany partitions, and can host up to 150 seated guests.
Once you've decided on the setting for your reception, you'll be excited to narrow down the culinary offerings and delicious beverages that'll be served to your guests. From the mouthwatering entrees to the sumptuous mains and heavenly desserts, choosing your wedding reception menu is one of those fun tasks that makes your wedding feel real. Park Hyatt Melbourne can coordinate a wedding menu tasting six to eight weeks before your wedding day, so you can try a few dishes before committing to your set menu — be that a traditional, three-course dinner or hot and cold canapés.
Park Hyatt Melbourne also offers incredible winter wedding packages, which come with their own perks. Perhaps you'd never considered a charming wintertime reception, but weddings in the cooler months can be so romantic and perfectly themed — just imagine a rich jewel toned colour palette, moody skies and tons of candles. 
Whatever your vision for your wedding reception — be it a wintertime occasion, formal Ballroom setting or elegant cocktail style event — the friendly, experienced event team at Park Hyatt Melbourne will work with you to bring your dream wedding day to life.
Wedding Photography Near Park Hyatt Melbourne
Some of the most popular wedding photography locations near Park Hyatt Melbourne are:
In Fitzroy Gardens, especially in the Old Bandstand or Temple of the Winds

On Park Hyatt Melbourne's grand, sweeping Ballroom staircase

In Carlton Gardens or Treasury Gardens near any of the towering, beautiful trees
Park Hyatt Melbourne Wedding Gallery
Spaces At Park Hyatt Melbourne
Wedding Packages
Our customisable packages are great value
Download our Wedding Packages & Pricing
Get information about our package options, pricing, facilities and much more!
Book your exclusive viewing
Walk through our stunning venue with one of our wedding coordinators for a complimentary consultation. See for yourself how a Park Hyatt Melbourne wedding suits your style.
Book Today
Featured Testimonials by Venue Crew
Very stylish contemporary Hotel offering superior accommodation choices, 5 star […] top class meeting rooms.
Robyn P ·
One of my favourite hotels around the world, it's a very stylish and classy hotel with a beautiful marble lobby. The food options are excellent and the staff are always wonderful.
Simon W ·
Beautiful, clean, classy and elegant. Art Deco styling.
Kasey D ·
Contact Park Hyatt Melbourne
Park Hyatt Melbourne is an elegant, 5-star hotel nestled in Melbourne's inner-east. Situated between St Patrick's Cathedral, Parliament House and adjacent to the Fitzroy Gardens, this centrally-located hotel offers a range of plush function spaces, suitable for both intimate events and grand occasions. 
From weddings and corporate functions to birthday celebrations and other social gatherings, Park Hyatt Melbourne is an ideal venue if you're on the hunt for a timeless, formal setting in the heart of the city.
Whether you're looking for a polished function venue to host your dream wedding, an impressive space for a work conference, or stylish area to host a large gala occasion, Park Hyatt Melbourne has a handful of contemporary, unique and flexible event spaces to choose from — including a formal ballroom with an exquisite sunken parquetry floor.
With world-class catering, premium customer service, a dedicated event team, and an on-site restaurant, this magnificent hotel is an ideal venue for your next event if you're after a seamless, luxurious occasion. 
Park Hyatt Melbourne's 245 5-star hotel rooms and suites are the largest in Melbourne CBD. A warm ambience, exceptional levels of personalised service, luxurious amenities, and exquisite surroundings provide guests with a private haven in Australia's most livable city.
Want to see this venue in person?